Management overview
* Until 2006, TransWilts train services ran 5 times a day and rapidly grew
* First Great Western withdrew most trains - a decision based on incorrect forecasts - in December 2006. The remaining trains are poorly timed for the traffic on offer and of little practical use
* First have now prepared an alternative timetable which is
--- much more appropriate
--- financially very sensible indeed (NOT expensive)
--- for which train paths ARE available
--- for which (for most services) crew and train are earmarked.
BUT ... they do need to know it would be used, and political decision makers need reminding of the case too. Can I ask you - yes
YOU
- to sign up at:
http://www.savethetrain.org.uk/pledge.html
This site is only just starting up - the real push comes in April and May; I would really appreciate some early signatures from course delegates who have used the train (or would have used it if they could) and from all our friends and contacts in the area too.
---
Some Further Detail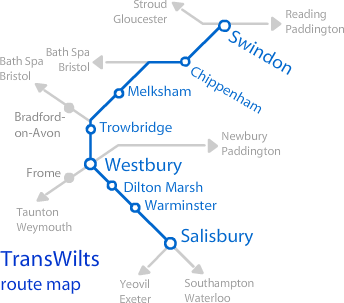 Until 2006, 40% of our training course customers came to Melksham by train - travelling on the TransWilts line from Westbury or Swindon, at arriving at about 9 O'clock, then catching the 17:12 or 18:09 back at the end of their course.
And in 2006, you could catch the same line direct from Trowbridge to Swindon, a 35 minute journey ... or Chippenham to Salisbury in under an hour. And many, many people did - traffic grew year on year by 35% according to the office of the Rail Regulator.
I was on the 17:59 from Chippenham on 8th December that year. It was was what I call "NESTing" - "Nearly Every Seat Taken" in a two coach train and that's ideal. Most of the passengers were regulars ... but that was the last day that train ever ran. First Great Western's new service, starting the following Monday, scheduled just 2 trains a day at 6:30 in the morning and after 7 at night. All remaining trains withdrawn. And, no, there isn't much of a demand at the new times - I have seen the morning train with just five passengers.
In 2007, very few - less than 4% - of our training course customers came to Melksham by train. Some we pick up at Chippenham or get a taxi, but a lot simply drive all the way these days.
And in 2007, with no direct trains to Swindon between quarter past seven in the morning and quarter to eight at night, you could drive, do a dogleg train trip via Bath or catch the direct bus and take 95 minutes. Chippenham to Salisbury - where the train was under an hour, the bus takes well over two.
The "Save the Train" campaign, in association with many other groups, has been pressing for an improved service, and a timetable for such a service has been drawn up and validated for 2009 - but it needs your support. The current gap in service at Melksham - 07:17 to 19:11 - would be plugged by extra trains at 08:24, 09:28, 11:17, 12:28, 14:17, 15:28, 17:08 and 18:21.
See
Here
to sign up
Here
to see who has signed so far
Here
for more information
(written 2008-03-28, updated 2008-04-01)
Associated topics are indexed as below, or enter http://melksh.am/nnnn for individual articles
G101 - Well House Consultants - Getting to and from Melksham
[40]
Take the train to training - (2004-09-06)
[154]
Railway train service, Melksham station - (2004-12-17)
[187]
a popular bus number - (2005-01-23)
[413]
Save the train - (2005-08-13)
[486]
Rail services under threat - Swindon, Melksham ... and Newquay and Bicester too - (2005-11-05)
[538]
A company we can work with - (2005-12-23)
[606]
Train service from December - (2006-02-14)
[715]
First way to get rid of customers - (2006-05-09)
[790]
Shadow Transport Minister to visit Melksham - (2006-07-02)
[796]
Busy day in Melksham - (2006-07-08)
[814]
Melksham Railway Calendar 2007 - (2006-07-25)
[856]
The train returns for a few weeks - (2006-09-05)
[952]
Coming from London to Melksham by train for a course - (2006-11-28)
[1085]
Lawrence Webb's Melksham Taxi service - (2007-02-18)
[1428]
Travel Across Wiltshire - the game - (2007-11-11)
[1511]
Buses from Well House Manor, Melksham, to Bath - (2008-01-18)
[1567]
Melksham - Swindon. Train v Bus v Car - (2008-03-07)
[1723]
Bath - Melksham - Devizes. Bus route changes, new timetable - (2008-07-26)
[1802]
Motorcycles welcome at Well House Manor - (2008-09-19)
[1997]
Travelling to a course - station pickups - (2009-01-16)
[2057]
Train and Coach fares from London (and airports) to Melksham - (2009-02-26)
[2367]
Learning to program - how to jump the first hurdles - (2009-08-20)
[2493]
Melksham buses to/from Chippenham, Trowbridge, Bath, Devizes, London - (2009-11-05)
[2634]
London to and from Melksham by public transport - (2010-02-13)
[2789]
Melksham to London (Heathrow, and Central London) - (2010-06-02)
[2791]
Bath to Melksham buses - times - (2010-06-03)
[3276]
International travel to the UK - coming to Melksham - (2011-05-03)
[3751]
Public transport for international arrivals into Melksham - (2012-06-04)
[3752]
Melksham Visitors Map - Bus routes and train lines to and from the town - (2012-06-04)
[4168]
Travelling to and from courses - much easier from December 2013 - (2013-09-08)
[4701]
Pretty at the station too - (2016-07-06)
Some other Articles

Every link has two ends - fixing 404s at the recipient
Comparing hotels - as a guest and from the proprietors view
Selling curry to the chinese takeaway
First Great Western Weekend
Please support improvements in our train service
Keep the client experience easy - single server contact point
Setting up a new user - Linux or Unix
Easter Sunday at 404, The Spa
All Change, Portsmouth Harbour
Dynamic Memory Allocation in C - calloc, realloc