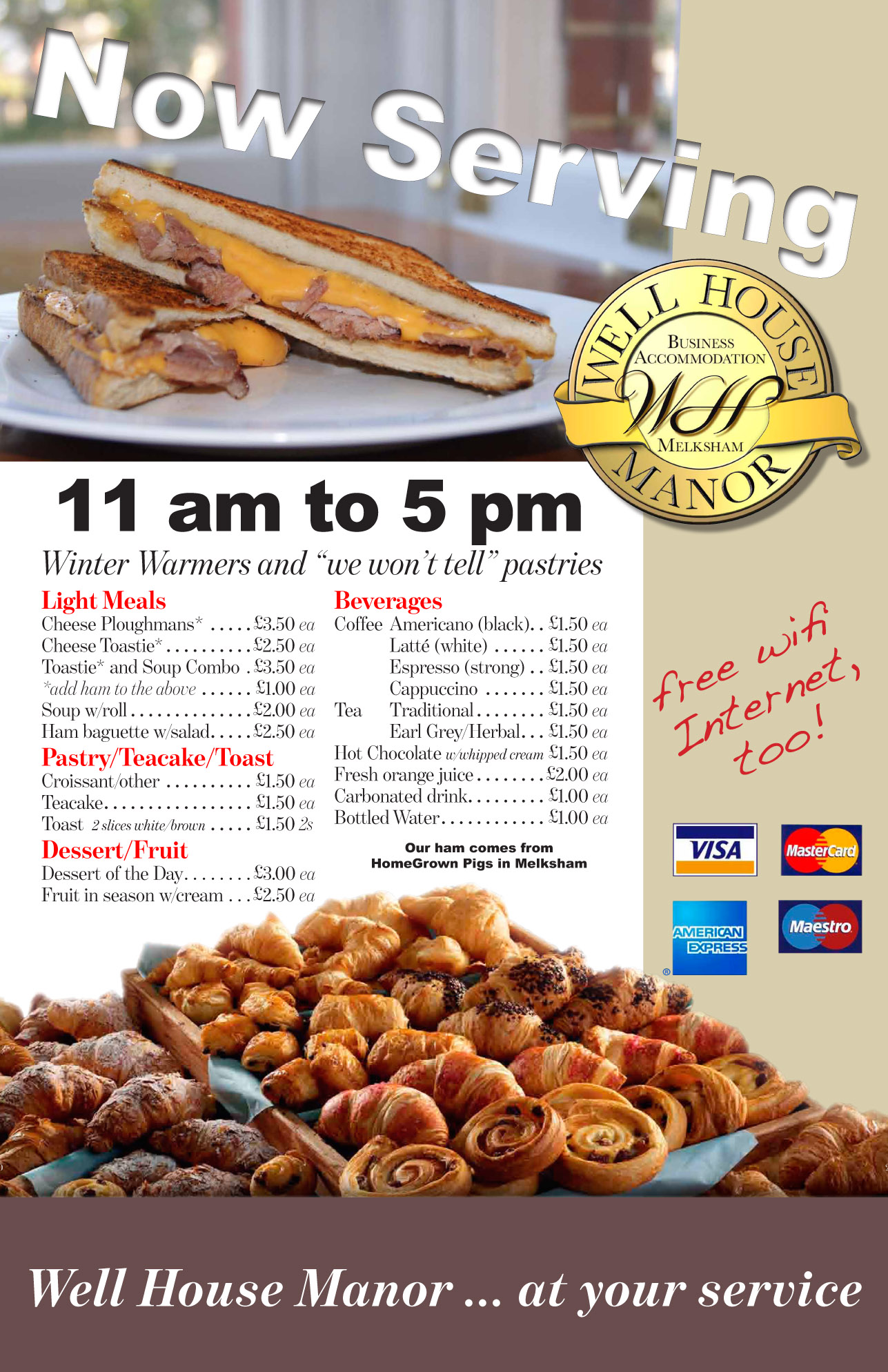 The days are drawing in rapidly, and what would be nicer than sitting in a comfy chair in the library, chatting with your friends, checking your email, drinking fresh bean-to-cup coffee and having a snack such as a ham and cheese toastie, with local ham from pigs reared in Melksham, and Somerset cheese?
After our successful summer cream teas,
Well House Manor
has introduced a "Winter Warmer" menu. We offer a snug, quiet cafe environment from 11 a.m. to 5 p.m. every day where you can meet your friends, browse the internet, read from a selection of daily papers in a relaxed setting. Feel free to drop in outside those hours too - our menu may be more limited, but you'll be welcomed any time we're around - and that's usually from early morning into the evening as we're a hotel too.
We're on Spa Road in Melksham - No. 48. That's on the Devizes Road, about 200 metres from the Market Place. Happy to cater for larger groups too - please call us ahead of time if there's going to be 9 or more of you.,
Click on the menu to enlarge
(written 2011-11-01)
Associated topics are indexed as below, or enter http://melksh.am/nnnn for individual articles
M107 - Well House Manor Newsreel
[2076]
A New Advert for Well House Manor - (2009-03-11)
[2424]
A Winter Weekend Special at Well House Manor - (2009-09-26)
[2984]
Customer Review - Hotel Room, Melksham - (2010-10-03)
[3014]
Well House Manor - the next six years - (2010-10-24)
[3405]
Where do businessmen stay in Melksham? - (2011-08-25)
[3535]
Melksham, Luxury Hotel Rooms, Christmas. - (2011-12-02)
[3586]
Emergency First Aid Provision at Well House Manor - part of the service - (2012-01-19)
[3645]
Keeping our hotel looking like new, by using our gained experience - (2012-03-09)
[3821]
Well House Manor at Dawn ... and later in the day - (2012-07-28)
[3827]
Melksham Community Apple Pressing Day - (2012-08-05)
[3828]
Pimms and Croquet in Edwardian Melksham - 8th September 2012 - Food Festival Event - (2012-08-05)
[3834]
Geekmas 2012 - celebrating open source languages such as Perl, PHP and Python - (2012-08-11)
[3858]
The apple crop of 2012 - (2012-09-15)
[3883]
Apple Pressing Day 2012 - (2012-10-07)
[3963]
National TV - Melksham - 9th January 2013, Pre-alert. - (2012-12-27)
[3965]
Well House Manor, Melksham - on national TV next week - (2012-12-30)
[3967]
Hotel bedroom - even larger TV! - (2013-01-04)
[4101]
POETS day at Well House Manor - (2013-05-24)
[4116]
International Melksham - industry, and beautiful countryside - (2013-06-15)
[4183]
Reaching a hotel standard where 99% of guests would return - and maintaining that standard - (2013-10-01)
[4262]
Updated staff systems helps us look after our customers better - (2014-04-11)
[4358]
A brilliant finish to 2014 training and business guests, and a look to 2015 - (2014-12-20)
[4543]
Saturday morning at Well House Manor - (2015-10-17)
Some other Articles

Operator Overloading, Exceptions, Pointers, References and Templates in C++ - new examples from our courses
Destructor methods in C++ - a primer
Melksham Forward - meeting summary and pictures
Cold call contacts - preference services and turning off spam sales approaches
Well House Manor - Winter Warmers - Open 7 days a week, 11 to 5 ++
Coaches from Trowbridge and Melksham to London
Melksham House - a community facility
Sunday Evening ... newest and oldest Melksham pictures
Santa Claus - on the train from Melksham on 4th December 2011
Campus Shadow - a great responsibility