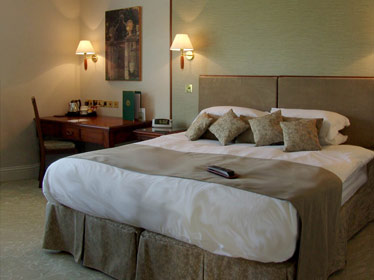 "Star Ratings at hotels face the axe" says a headline in the Daily Express.
"Hotel star ratings are to be scrapped because they are 'out of date' it emerged yesterday. Instead, guests will rely on consumer reviews on the Internet. [snip] Tourism minister John Penrose said the rating system is 'too often unreliable and unfair ...'"
A guest at Well House Manor commented to me this morning about how lovely the underfloor heating in the bathroom is. How lovely the bathroom products are, and how lovely it is to have proper cotton towels. "I've not had better even in a five star hotel" she added. And yet we're unrated.
We're unrated by choice; there's a number of reasons for this.
Firstly, it's because we rather agree with the tourism minister that the current system is outdated and unfair. Many elements at Well House Manor are things you would only find in some five star hotels. But other elements that are required for three stars - such as having coat hangers that are retained rather than loose - which seem to be something of a negative rather than a positive, provide you keep a good stock of hangers to replace those that people accidentally walk off with. And there's no need for us to have a night porter (and put the prices up to cover his salary) these days - we can be with a customer who calls us quicker than a traditional porter in a large hotel, even in the middle of the night.
Secondly, it's because we believe that the rating system would not be good value for us; during the week, we're busy with delegates for courses and other business guests. On winter weekends, there (frankly) aren't too many tourists around, and on many summer weekends we're already full with wedding guests. So the rating system would be bringing guests in on only a limited number of days. Divide the setup cost of getting even an 'unfair' rating - the best part of a thousand pounds a year - by the number of days, and you'll see that we would have to put up our prices for those days, or make a (lesser) extra charge on all our guests for a rating system that they've done without in the past
Thirdly ... what's the point in getting the emails and phones buzzing with inquiries to the extent that we're turning significant numbers of enquirers away; with just five rooms, the difference between "empty", "full" and "over-flooded" is small, and "overflooded" is a sure way to upset regulars, and to loose training delegates who want to come on courses, but who find they can't stay - and they are the customers we primarily exist to serve.
But there is a need to be reviewed. People do need to know what they're coming too. And that's were review sites online come into their own. I largely agree with John Penrose that this is the way for the future; there are just a couple of aspects I would pick up as being 'less than perfect' in such a scheme, but all in all it's a huge improvement from our viewpoint.
The hotel industry is here to provide what its guests want, and not what a professional hotel-visitor ticks off on his sheet
- that's a sure way to play into the hands of mundane sameness, rather than to nurture and encourage customer-aware innovation
(written 2011-01-25)
Associated topics are indexed as below, or enter http://melksh.am/nnnn for individual articles
M400 - Well House Manor - The Hospitality Business
[774]
Bed and Breakfast, or Hotel? - (2006-06-22)
[884]
Drive time - (2006-10-02)
[922]
Staying at your own hotel - (2006-11-12)
[988]
You should think you're first in a hotel room - (2006-12-15)
[1002]
Meet the neighbours - (2006-12-20)
[1046]
Bounce, bounce, bounce - (2007-01-20)
[1048]
Getting rid of people - hotel techniques - (2007-01-21)
[1084]
Writing terms and conditions for conferences and other events - (2007-02-17)
[1108]
Express service - (2007-03-14)
[1122]
Hotel - online feedback forms compared - (2007-03-30)
[1161]
A contrast in room rates and facilities - (2007-04-25)
[1180]
Conjugation - (2007-05-08)
[1248]
How NOT to oversell a hotel - (2007-06-27)
[1284]
An update on the West Wilts show ... - (2007-07-30)
[1421]
Castle Lodge Hotel, Ely, Cambridgeshire - (2007-11-04)
[1422]
Wiltshire - speaker / after dinner talker offer - (2007-11-05)
[1445]
Looking after you Christmas Customer Crowds - (2007-11-26)
[1548]
Hotelympia - show report - the lighter side - (2008-02-21)
[1622]
An extra step - victory from defeat - (2008-04-25)
[1792]
All the pieces fall into place - hotel and courses - (2008-09-10)
[1877]
Guests doing a bunk? - (2008-11-09)
[2007]
Launch of Melksham Food and Drink Festival - (2009-01-24)
[2283]
Everyone is in the customer relations business - (2009-07-12)
[2303]
Turning potential customers away - (2009-07-24)
[2593]
Food and drink launch - (2010-01-21)
[2724]
Escapee Grandparents welcome - Henfield and Melksham - (2010-04-15)
[2879]
Night Porter and reception - 24 hours a day? - (2010-07-20)
[2936]
The service that customers should receive - (2010-08-27)
[3164]
Brown - or Mrs Sally Brown, accountant from Whitstable? - (2011-02-10)
[3309]
Tipping Policy - Well House Manor - (2011-05-29)
[3660]
A Pivotal Incident - learning how to welcome your guests - (2012-03-18)
[3743]
Sunday - no longer a day of rest - (2012-05-28)
[3832]
A busy day at Well House Manor - so come in and make it even busier! - (2012-08-10)
[3838]
Guest review - Well House Manor, Melksham - (2012-08-14)
[3909]
Every Customer Counts - (2012-11-01)
[3988]
Three cheers for the staff at Well House Manor - (2013-01-24)
[4033]
Official Star ratings for hotels - still worth having? - (2013-03-07)
[4051]
On reading a new hotel review - (2013-03-24)
[4202]
Excellent Railfuture conference, but some setup lessons - (2013-11-03)
[4232]
Not wanted here - hotel guests who will not be happy - (2013-12-30)
[4321]
Are administration / review charges on hotel guests acceptable? - (2014-11-20)
[4521]
Should we get an AA or Visit Wiltshire hotel assessment? - (2015-10-09)
[4543]
Saturday morning at Well House Manor - (2015-10-17)
[4603]
Happy New Year. Our customers are our ambassadors - (2016-01-01)
[4613]
Our best hotel customers help us ... to help them ... be our best customers. - (2016-01-04)
Some other Articles

Disassembling Python and Java - previously compiled code
Python dictionaries - mutable and immutable keys and values
Looking back at www.wellho.net
OpenGL / C / C++ - an example to get you started
Hotel star ratings - towards a better system of review
Strings in C
Structures v Structure Pointers in C. How, which, why.
Setting up arrays in C - fixed size at compile time, or dynamic
On time
Private and Public - and things between