"Which Room would you recommend for a special weekend ..."
Question on the phone from customer booking at
Well House Manor
. And Lisa's comment - "I feel awkward giving my personal opinion - it may differ from what the customer's would be."
Well - give them the data and let the customer choose!
"We have a lot of customers who ask for the same room they were in last time when they book - and that's for every room in the hotel. Every room has its fans"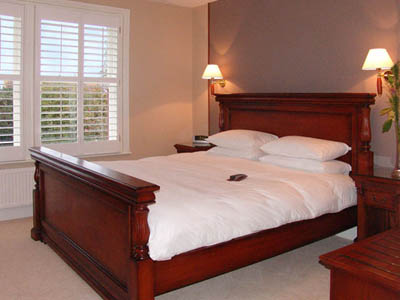 •
Room 1
is a quiet room at the back of the hotel, double, with a large circular-doored shower with a seat in it.
[see bedroom 1]
•
Room 2
is larger that room 1 (mind you - room 1 is not small) again at the rear of the building, overlooking the main garden and the apple trees. Usually a double, we'll convert room 2 into a twin if required.
[see bedroom 2]
•
Room 3
has a large sleigh bed and a double ended bath (no shower) in a light and airy bathroom. It overlooks the main lawn and is situated closed to the main stairs.
[see bedroom 3]
•
Room 4
is the largest in the hotel - configured as either a double or twin room (please let us know when you book) and with a large walk in double shower. Again, this room overlooks the lawn.
[see bedroom 4]
• and
Room 5
is at the front of the hotel, with a King double bed, and both bath and shower. There's a fireplace in the room (regrettably not working) and the desk is situated in the bay window so that you can look out while you work.
[see bedroom 5]
Which would I sleep in? Any of them ;-) ... and indeed I HAVE tried out some of them so that I'm fully aware of our product from a user's perspective, and we continue to encourage staff to stay and report back occasionally.
(written 2008-10-07)
Associated topics are indexed as below, or enter http://melksh.am/nnnn for individual articles
M101 - Well House Manor - Business Accommodation in Melksham
[717]
A customer service company - (2006-05-11)
[721]
Residential - (2006-05-15)
[731]
Hotel Technology Requirements - (2006-05-24)
[844]
Hotel, Melksham, Wiltshire - (2006-08-24)
[857]
Strikingly busy - (2006-09-06)
[873]
Hotel Exchange Rates - (2006-09-21)
[889]
Opening approaches! - (2006-10-08)
[902]
Brand new hotel and training centre, Melksham - (2006-10-22)
[926]
Training rooms to learn Open Source programming - (2006-11-15)
[963]
George Hotel and Well House Manor, Melksham - (2006-12-04)
[1011]
Well House Manor and Beechfield House, Hotels, Melksham - (2006-12-29)
[1059]
Three sets of twins - (2007-01-31)
[1079]
Wilts and Berks - two conference / training rooms in Melksham - (2007-02-14)
[1089]
Playing old games - (2007-02-22)
[1164]
Grand Central Station - (2007-04-27)
[1318]
Well House Manor - feature comparison against the old place! - (2007-08-24)
[1520]
Terms and Conditions - Hotel, England - plain English - (2008-01-26)
[1676]
A warm welcome for visitors from the USA - (2008-06-14)
[1701]
Training Course and Business Conference Technology - (2008-07-07)
[1748]
Hotel room prices - Melksham, Wiltshire - (2008-08-11)
[1808]
We love children ... but our hotel is not going to be their scene - (2008-09-24)
[1907]
Melksham Hotel Rates - (2008-11-25)
[1929]
2009 - Hotel, Meeting, Training Course prices - (2008-12-07)
[2024]
Carry on Training - in spite of the weather - (2009-02-03)
[2558]
Happy new decade - and course and hotel prices for 2010 - (2010-01-01)
[2581]
Snow scenes - and how snow effected our business - (2010-01-16)
[2821]
Chancellor George Osborne inspires Perl Program - (2010-06-22)
[2925]
Well House - the pictures - (2010-08-16)
[2984]
Customer Review - Hotel Room, Melksham - (2010-10-03)
[3107]
Hotel and Training Course prices - the effect of the VAT rise on 4th January 2011 - (2010-12-26)
[3405]
Where do businessmen stay in Melksham? - (2011-08-25)
[3969]
Four in a Bed comes to Melksham tonight - (2013-01-09)
[4005]
New guest ... becoming returning guest - (2013-02-15)
[4137]
Early morning - welcoming business and leisure guests to Melksham - (2013-07-10)
[4570]
A warm welcome awaits you at Well House Manor, Melksham - (2015-11-02)
[4603]
Happy New Year. Our customers are our ambassadors - (2016-01-01)
[4614]
PC Plod - alive and scaremongering in Wiltshire? - (2016-01-04)
Some other Articles

Perl - map to process every member of a list (array)
What a shock
Perl - Subs, Chop v Chomp, => v ,
Question Mark - Colon operator (Perl and PHP)
Which is your best hotel room?
FSB - an update.
Claverton Pump
Autumn
Sorting objects in PHP
Calling base class constructors