It's a while since I wrote about our training centre, and some of the things that I wrote in the past have been updated or upgraded since. So here's an up to date description, written in December 2009 telling you about our location and courses for 2010.
All of our public courses are run at Well House Manor, which is set in 3/4 of an acre of private grounds, yet is just five minutes walk from the town centre of Melksham in Wiltshire
[Google Map]
. There's plenty of free parking for delegates, and if you come by public transport a regular bus service stops outside
[Timetable]
. Melksham has a train station too, and there are alternative stations with more services at Chippenham and Trowbridge
[Time lookup]
.
We have two training rooms - the "Wilts" which we use for larger courses of up to eight delegates on public courses (that's our limit) and the "Berks" which we use if there are just one or two delegates. Both rooms have data projectors, wired and wireless internet, floor to ceiling whiteboards, and generous desk space for delegates who are attending our courses - there's plenty of room for our laptop, yours (if you wish to use it too), your course notes .... and of course your cup of coffee.
Courses are scheduled to run from 9 a.m. to 5 p.m. each day, but the tutor will be available for an extended time - from at least 8:30 to 5:30, and often much longer. You'll have access to the training room, and the library of over 700 technical books all evening ... and all night if you wish, and all of our machines are connected to our 50 Mbit internet connection which is available throughout.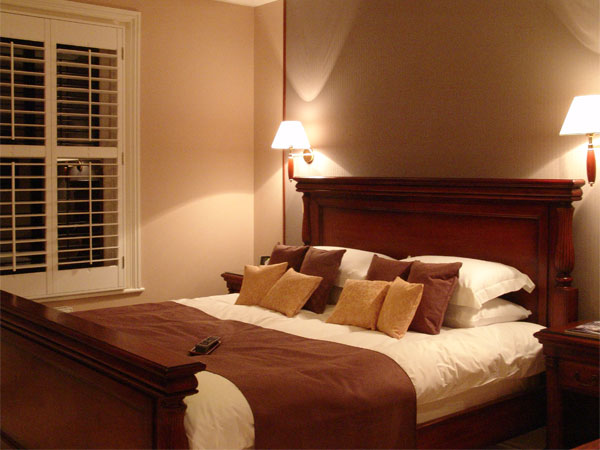 Our delegates come from far and wide, as we specialise in niche training. So we also provide hotel facilities - five well appointed rooms (of a "gosh - I didn't know we had rooms this good in Melksham" standard according to a lady who popped in to book us for guests coming to a wedding while I was writing this). The rooms are available at weekends too - and we welcome delegates back - but they are designed around the need of course delegates.
Typically delegates arrive the evening before a course starts, meet other delegates over breakfast in the morning, and are refreshed and ready to learn as soon as the course starts. We're running public courses on the following subjects in 2010:
•
Lua
- to 2 different course agendas
•
Perl
- to 4 different course agendas
•
Python
- to 2 different course agendas
•
PHP
- to 5 different course agendas (likely to add 2 more shortly)
•
Ruby
- to 2 different course agendas
•
MySQL
- Programming and admin
•
Tcl / Tk / Expect
- to 3 different course agnedas
•
Linux / Lamp
- to 5 different course agendas
•
Apache http server and Tomcat
- to 3 different course agnedas
•
Java
- to 2 different course agendas
•
C and C++
- to 5 different course agendas
Our full (updated) schedule is
[here]
and course prices remain at £350.00 for a one day course, plus £250.00 per extra day for all courses (add 60 pounds per room per night if you'll be staying with us; all prices quoted exclude VAT)
If you have any questions ... or would like to make a booking, please phone (01225 708225 or 0800 043 8225), email (info@wellho.net) or complete our
[online enquiry form]
. We also offer private courses at Well House Manor or at your own offices - if you have a group of 4 or more, a private course will be lower cost and can be tailored to suit your requirements. If you have 8 or more delegates, you'll save money by having our tutor travel to you.
(written 2009-12-16, updated 2009-12-17)
Associated topics are indexed as below, or enter http://melksh.am/nnnn for individual articles
M153 - Well House Manor - Training Facilities
[379]
Getting the lighting right - (2005-07-15)
[1227]
Melksham businesses - networking together - (2007-06-10)
[2537]
Faster network, but not faster browsing until ... - (2009-12-14)
[2943]
Our facilities to support Well House Consultants Courses - (2010-09-02)
[3521]
Emergency First Aid at Work (HSE) training in Melksham - places available for 19.1.2012 - (2011-11-15)
[3612]
Help to get online in Melksham - (2012-02-13)
[3816]
Want to escape the Olympics? Learn to program in the countryside! - (2012-07-23)
G997 - Well House Consultants - Newsletter Lead Articles
[1000]
One Thousand Posts and still going strong - (2006-12-18)
[1065]
Graham Ellis - an Introduction - (2007-02-05)
[1136]
Buffering output - why it is done and issues raised in Tcl, Perl, Python and PHP - (2007-04-06)
[1224]
Object Relation Mapping (ORM) - (2007-06-09)
[1318]
Well House Manor - feature comparison against the old place! - (2007-08-24)
[1386]
New software product for warmblooded programmers - (2007-10-10)
[1488]
New trainee laptop fleet for our Open Source courses - (2007-12-30)
[1545]
Letting new visitors know we provide training courses - (2008-02-19)
[1600]
Cambidge - Tcl, Expect and Perl courses - (2008-04-04)
[1663]
Python in an afternoon - a lecture for experienced programmers - (2008-06-01)
[1754]
Upgrade from PHP 4 to PHP 5 - the TRY issue - (2008-08-15)
[1819]
Calling base class constructors - (2008-10-03)
[1912]
Book now for 2009 - (2008-11-29)
[2052]
How was my web site compromised? - (2009-02-24)
[2119]
Make your business a DESTINATION business - (2009-04-05)
[2253]
Walks in and around Melksham, Wiltshire - (2009-06-21)
[2370]
C++, Python, and other training - do we use an IDE - (2009-08-21)
[2425]
Weekend and Christmas Promotion - Well House Manor Hotel, Melksham - (2009-09-26)
[2743]
Public Open Source Training Courses running this summer and autumn in Melksham - (2010-04-27)
[3202]
Telling you something about us in just one line - (2011-03-15)
G206 - Well House Consultants - Our training centre
[53]
Drive the drive - (2004-09-18)
[256]
Spring is in the air - (2005-03-24)
[448]
Out of the norm. - (2005-09-23)
[627]
JIT or JAU - (2006-02-27)
[640]
Training Centre Pictures - (2006-03-09)
[1200]
Training information - England, Scotland, Wales and Ireland - (2007-05-22)
[1240]
Fancy going to Glastonbury? - (2007-06-22)
[2126]
Weeding out old phone numbers - (2009-04-11)
[2660]
One number for Well House - 01225 708225 - (2010-03-04)
[2926]
Journey times to Melksham, Wiltshire - (2010-08-17)
[3545]
Finding all matches to a pattern in Perl regular expressions - (2011-12-09)
[4012]
A course is not just for a year - its for a career - (2013-02-20)
Some other Articles

My armpit was like a zebra crossing
VAT Changes
Rock and hard place .. and the relaxing right one won
Changing Images
Open Source Training Centre and Courses for 2010
All the Cs ... and Java too
When should I use Java, Perl, PHP, or Python?
And now for some posts a bit more technical
Five guests, three groups, one car