Lisa emailed me a link to a web site listing dog-friendly hotels for our own future use when traveling. Now for Betty and Phil, a hotel that's dog friendly is a blessing, but by contrast Gordon and Sarah wouldn't want to stay somewhere that's overrun with other people's dogs.
So let's see ... where does
Well House Manor
- our hotel in Melksham, Wiltshire, England - fit in?
I'll explain each of these in more detail a bit later, but we are:
• Adult friendly • Biker friendly • Business traveler friendly • Car friendly • Cyclist friendly • Diet friendly • Dog friendly • Early and late arrival friendly • Early and late departure friendly • Gay and Lesbian friendly • Internet friendly • Last Minute friendly • One night friendly • Overseas guest friendly • Public Transport friendly • Solo traveler friendly • Tourist friendly • Walker friendly • Weekend guest friendly
Update - 1.9.2013 ... We are now also dog friendly. All of our team have dogs, love 'em and you can come and stay with one or two of them, and at no extra charge. Rooms are deep cleaned after dogs have stayed ... and we still provide ultra clean rooms for those of you who are not dog fans!
In order to balance the presentation, let me tell you that we don't have facilities for
dogs
, smokers (inside), wheelchairs, children and babies. An apology to those of you who might like to smoke in your room, or bring the kids ... but then it lets us guarantee a quiet clean-aired environment for the guests for whom we've really tailored what we offer, and you'll be much happier letting the children run around and play at
Beechfield
,
or having Fido in you room at The Shaw
, or with level access to your room at
Antonia House
.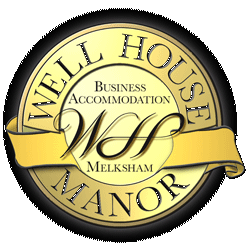 Well House Manor - 48 Spa Road, Melksham, Wiltshire, SN12 7NY

We are on the Devizes Road out of Melksham, just a few hundred yards from the Market Place, yet in our own quiet grounds with plenty of parking. All five rooms are large, en suite, and feature large screen TVs with over 50 channels, King or superking beds and much more.

All rooms are double or twin. Single occupancy - £85.00 per night, Double occupancy, £95.00 per night, including an extended continental breakfast.

01225 708225 • http://www.wellhousemanor.co.uk


I promised you an explanation of each friendly term ...
Adult friendly
... we offer a quiet environment suited to business visitors, and to couples and singles visiting Wiltshire to see family and friends, or to tour the beautiful countryside and historic villages of Wiltshire.
Biker friendly
...
Cyclist friendly
... we have locked garaging available for cycles and motor bikes, and we're just 200 yards off the Sustrans national cycle network. Large, well heated bedrooms and bathrooms mean plenty of space for drying your 'gear' on wet days. A garage two doors away, and a motor cycle and cycle specialist stores within easy walking distance in the town.
Business traveler friendly
... You want to be able to come and go as you please. To have Internet access, a large work desk, copying facilities. To get breakfast early, and to be able to bring dinner in or get it delivered rather than eating in a hotel restaurant every night. To get taxis booked, and to have your business contacts come to the hotel to meet you. You want a variety of healthy foods at breakfast ...
you've got it!
Car friendly
... We've plenty of free parking. Any you can drive in and out whenever you like, or leave your car with us if you're going out with friends of colleagues, or want to take the bus into Bath. There's a garage, open from 6 a.m. to 10 p.m. just two doors up from us, and Classic Motors are always helpful if you've something on your car that needs urgent attention.
Diet friendly
... Whether you've got a special dietary requirement for health, religion or life-choice reasons, let us know and we can usually help.
Dog friendly
... As a policy change in 2010, after this blog was originally posted, we added "we welcome dogs". If we know a dog's coming we'll ensure you're in a larger room (we have 2 greyhounds now and know how much space they can take and we'll even provide doggie mat, bed and bowl.
Early and late arrival friendly
...
Early and late departure friendly
... Whether you're arriving off an overnight flight from the USA and will be with us at 9 a.m., or landing at Bristol Airport at midnight, that's fine by us. We do ask you to let us know an approximate arrival time, but we don't have a "must check in between 3pm and 10pm" rule as you may find up the road. An early departure? I was making breakfast at 5 a.m. last week!
Internet friendly
...
Last Minute friendly
... Book online, even last minute, and your booking will be made against our live database - you can be certain that if we say a room is available, it really is available, and you don't have to wait for us to check. At the hotel, all rooms have wireless and wired broadband internet access, and its unlimited use (subject only to our AUP) is included in the price of your room. There's even a publicly available printer on the network so you take hard copy if you like.
One night friendly
... No minimum stay - yes, we are happy for you to check in on Saturday afternoon and check out on Sunday morning - or even to arrive on Christmas day and leave on Boxing day.
Overseas guest friendly
... My wife was born in the USA and brought up in various countries including Lebanon. Chris's wife comes from South Africa, and both moved to the UK when we got married. We're delighted to welcome guests from outside the UK, to make them feel at home, to provide facilities they need and to introduce them to our lovely part of the UK ... that's after we left them in peace and quiet if they need it to recover from a long journey and jetlag.
Public Transport friendly
... the bus from Bath stops right outside. The coach from London calls at the Market Place (400 yards) each day. And the train station is within a mile. Let us know what time your train's arriving and we can pick you up. Leave your car with us, and take the bus to Bath or Devizes from right outside, to Lacock, Chippenham, Trowbridge or Frome from the Market place.
Solo traveller friendly
... I have traveled extensively - I still do in the training element of my job. And the hotels I want to stay in, and keep going back to, are the ones where I am made to feel welcome - where I am promptly looked after and where the staff are greet their guests and take an interest in their individual well-being. We make a special effort to ensure that lone guests feel at home, and know that they're every bit as important as the couples and the groups.
Tourist friendly
... We live in a lovely park of the UK, and we're delighted when people come and stay with us, taking an interest in the area. It's often said that people who live in an area know it far less well that visitors, but we take steps to be exceptions to that rule. We go out, we learn our area, and we're happy to tell people about what there is to do - the well known and the secret places too. Maps are available on loan, books on the area for reading, and we have a wide range of local brochures that would make an establishment with ten times our footfall proud.
Walker friendly
... from my home (about half a mile up the road from the hotel) we can strike out onto footpaths and walk for miles without seeing a vehicle. From Bowerhill in Melksham, you can join the Kennet and Avon Canal towpath and walk all the way to Bath or Reading. And from Well House Manor, you can walk a few hundred yards to a variety of eating places and pubs in the evening. We even have local maps with suggested local walks ... all of which I have walked myself.
Weekend guest friendly
... "Business Accommodation" is how we style ourselves ... but businessmen and course delegates come back, on their own or with their partners, to spend a weekend in Wiltshire. And we welcome them - ambassadors for our hotel - and other leisure guests too.
---
Updates - prices are current for 2011 bookings (inclusive of VAT at 20%)
(written 2009-11-02, updated 2013-09-01)
Associated topics are indexed as below, or enter http://melksh.am/nnnn for individual articles
M152 - Well House Manor - Hotel Facilities
[4644]
In your room at Well House Manor, Melksham, Wiltshire - (2016-02-08)
[4614]
PC Plod - alive and scaremongering in Wiltshire? - (2016-01-04)
[4582]
A near-empty plate of pastries - sign of a breakfast enjoyed - (2015-11-22)
[4521]
Should we get an AA or Visit Wiltshire hotel assessment? - (2015-10-09)
[4026]
The coffee of the Stars comes to Melksham - (2013-03-04)
[4019]
Coffee Shop in Melksham - (2013-02-24)
[3924]
The bedrooms at Well House Manor - (2012-11-16)
[3865]
What makes Well House Manor different? - (2012-09-18)
[3863]
Five new fans at Well House Manor - (2012-09-17)
[3831]
Our Melksham Hotel is not quiet - but we are waiting to give you a quiet welcome. Big difference! - (2012-08-09)
[3552]
Melksham Training Centre and Hotel internet speed - how does it compare? - (2011-12-14)
[3549]
Well House Manor - perhaps the best hotel rooms in Melksham - (2011-12-10)
[3437]
Light bulbs - (2011-09-13)
[3373]
Another busy Week at Well House Manor ... pictures from the midweek - (2011-07-29)
[3308]
Behind the scenes - setting up a cafe - (2011-05-29)
[3296]
Dog, hotel, Melksham, Wiltshire? - (2011-05-21)
[3212]
Well House Manor - a home from home for the business and leisure guest in Melksham - (2011-03-26)
[2847]
Local information for Melksham Hotel Guests - (2010-07-02)
[2559]
Moving the product forward - ours, and MySQL, Perl, PHP and Python too - (2010-01-01)
[2424]
A Winter Weekend Special at Well House Manor - (2009-09-26)
[2303]
Turning potential customers away - (2009-07-24)
[2216]
Past Delegate Offer - Summer Holiday / Weekend Break - (2009-06-03)
[2076]
A New Advert for Well House Manor - (2009-03-11)
[1328]
Oliver says .... - (2007-09-01)
Z531 - Cycling and Walking
[4022]
A request for all of Melksham transport groups to work integrated - (2013-03-01)
[3938]
A long overdue meeting - a steeping stone towards coordinate transport user inputs - (2012-12-02)
[3904]
Want to help us improve transport in Wiltshire? Here is how! - (2012-10-26)
[3771]
Fine evening, country walk from Melksham - pictures - (2012-06-21)
[3689]
Can I cycle or ride my mobility scooter on the pavement? - (2012-04-07)
[3580]
Melksham Area - buses, trains, cycles, and roads. Meeting, 17.1.2012 - (2012-01-15)
[3579]
Transport in Cambridgeshire - seen by an outside observer. What can Wiltshire learn? - (2012-01-15)
[3376]
Kennet and Avon - Walk from Bedwyn to Pewsey. TransWilts day out. - (2011-08-01)
[3231]
Footpath, Bridleway, Byway, Road used as Public Path - (2011-04-04)
[3228]
What can you take on a public footpath? Pram? Wheelbarrow? Dog? Shopping Trolley? Horse? Cycle? - (2011-04-03)
[3216]
Images of a Spring Walk - (2011-03-27)
[3023]
Autumn walk from Bowerhill - (2010-10-31)
[2958]
What do these road markings mean? Could Confusion Kill? - (2010-09-17)
[2858]
The healthy option - away from the private car - (2010-07-07)
[2709]
Old trackways and routes near Melksham - (2010-04-05)
[2707]
A walk on the Kennet and Avon - (2010-04-04)
[2704]
A walk within without - Melksham Without - (2010-04-02)
[2666]
Random thoughts on Melksham Town Planning and development - (2010-03-08)
[2253]
Walks in and around Melksham, Wiltshire - (2009-06-21)
[1802]
Motorcycles welcome at Well House Manor - (2008-09-19)
[1640]
Walking on The Wiltshire Downs - (2008-05-12)
Some other Articles

Making Linux Politically correct
Melksham buses to/from Chippenham, Trowbridge, Bath, Devizes, London
Lua Classes - open enrolement
Root is root for a reason!
Friendly Hotel in Melksham, near Bath
Parallel Pinging, using Python Threads or Expect spawn lists
A variable number of arguments in a PHP function
Melksham Forum
Santa Special - Trowbridge and Melksham to Swindon
How do I set up a constant in Python?