[link] A year of changes for Lisa and Graham Ellis, and Well House (posted 2017-05-27)
Our IT training business has been running at Well House Manor (48 Spa Road) since 2006, and during that time has grown in all sorts of unexpected directions - into a guest house, an event venue for outside customers, a museum, and a base for the local Community Rail Partnership. With changing metrics in the IT training business, with guest house facilities such as high speed internet connections ...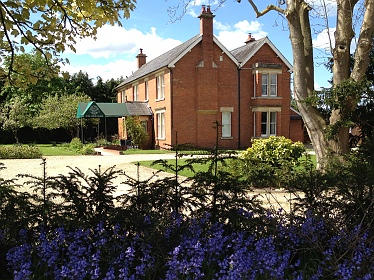 [link] Well House Manor - Still five out of five! (posted 2016-10-30)
Our customers are our ambassadors. And it's lovely when they review us online at places like Trip Advisor - not only to help give us confidence in what we do and help tell our team "you done good", but also to encourage other to come along and try us our too, because as an "independent" we have no brand following from elsewhere - we're not an Ibis, a Ramada or a Best Western. What a superb find i ...


[link] Up and down TransWilts - some pictures off the rails! (posted 2016-07-07)
Been busy ... VERY busy ... so let me just share a few pictures from the last couple of weeks. ...


[link] Pretty at the station too (posted 2016-07-06)
Melksham is looking lovely ... getting all spruced up for the "Britain in Bloom" competition. Thanks to the Melksham Rail User Group (and one or two members in particular!), the station too is looking much more welcoming and much less 'just functional'. Trains run 9 times a day (8 on Saturday, 7 on Sunday) to Chippenham and Swindon, and 9 times a day (8 on Saturday, 6 on Sunday) to Trowbridge a ...


[link] Spring at Well House Manor (posted 2016-03-27)
Spring is here - Easter - daffodils - in the garden at Well House Manor. Open as a small hotel / large B&B for business and adult leisure guests. Set in a quiet spot just a few hundred yards from Melksham Town Centre. ...


[link] Coats of arms - towns and authorities in Wiltshire (posted 2016-02-21)
Wiltshire has a rich history, illustrated and celebrated in the coats of arms of the various towns and authorities in the area. These coats of arms shown in this post are (I consider) to be in the public domain. However, they remain the property of the body to whom they were granted, and their reproduction here does not imply any endorsement by the local authority concerned. ...


[link] In your room at Well House Manor, Melksham, Wiltshire (posted 2016-02-08)
Hotel pictures usually show the rooms and settimg. Today I'm going to show you some of the things we have in the rooms at Well House Manor. ...


[link] Rambling from Westbury (posted 2016-01-16)
A lovely late morning walk from Westbury Station - Wessex Wanderer Railway Walks - followed by lunch at the Railway Tavern and a train trip home. Good that trains now work to allow this ... good to meet up with folks from FOSBR and talk about plans and directions - more and more it becomes partnership, and talking things through between us for pragmatic developme ...

[link] Frosty morning, beauty of Wiltshire (posted 2016-01-14)
Cold mornings have come at long last - and with it a beauty. We live in a beautiful county too, so I'm going to share three pictures of my trip from Melksham through the Wylye Valley to Salisbury. ...


[link] PC Plod - alive and scaremongering in Wiltshire? (posted 2016-01-04)
I have been forwared a message from a Sarah Young (Police, PC - Cyber crime prevention officer, Wiltshire Police) "PLEASE READ THIS IF YOU STAY IN HOTELS AND ARE GIVEN A CARD FOR ACCESS TO YOUR ROOM" she shouts She carries on "This is a really useful information for anyone who goes on holiday where the hotel uses key cards. Always take a small fridge magnet on your holiday, they come in handy a ...


[link] Our best hotel customers help us ... to help them ... be our best customers. (posted 2016-01-04)
* They check that what we have to offer is right for them before they book. * When they initially enquire, they include where, when, and how many people (and dogs) in their party; they are honest and complete in their booking, letting us know if they're bringing a dog for example, and they also let us know if we're not quite what we're looking for and they've decided to stay elsewhere, rather tha ...


[link] Happy New Year. Our customers are our ambassadors (posted 2016-01-01)
A Happy New Year from the Well House team. Starting as we intend to go on, with the very best of service to our customers. The New Year is but 12 hours old ... but already I have the first hotel guest review I can share with you. ...


[link] A near-empty plate of pastries - sign of a breakfast enjoyed (posted 2015-11-22)
I'm always delighted when a big group tackles a full breakfast buffet and it's almost all gone when they leave - just a little of most things left. Of course, the better customer picture is the one which shows a nice full plate of freshly cooked pastries, as they were a few minutes earlier - and indeed a few minutes later too, when we had topped up for the final guests. Although our Sunday b ...


[link] A warm welcome awaits you at Well House Manor, Melksham (posted 2015-11-02)
We've a number of events happening at Well House Manor this week - an external training course run for a local company in one room, a course of our own in a second room, a social / informal company meeting for another organsation in a third room ... and guest coming to stay overnight with us, to read in the library and to see our reference of historic materails on museum display too. All at Well H ...


[link] Japanese and Malaysian food in Melksham (posted 2015-11-01)
I'm delighted that "The Unicorn" in Melksham has re-opened as a Japanese and Malaysian restaurant and Takeaway, lunchtime and evenings, 7 days a week. Lisa and I tried a Malaysian takeaway last week, and we ate in for lunch yesterday with Dad - Japanese starter illustrated. Very tasty - we'll be going there again, ad wish the business all the very best. For guests at Well House Manor, the U ...

[link] Saturday morning at Well House Manor (posted 2015-10-17)
[link] Should we get an AA or Visit Wiltshire hotel assessment? (posted 2015-10-09)
[link] Effect on external factors on traffic to our web sites - an update (posted 2015-04-26)
[link] Four in a Bed - most popular answers (posted 2015-03-31)
[link] Seventh stay away this year - and it's still only February! (posted 2015-02-25)
[link] Well House Consultants / Well House Manor - Prices for 2015 (posted 2015-01-01)
[link] A long and disappointing evening (posted 2014-12-30)
[link] The changing face of Christmas (posted 2014-12-26)
[link] A brilliant finish to 2014 training and business guests, and a look to 2015 (posted 2014-12-20)
[link] Seeing Christmas Coming to Melksham (posted 2014-12-20)
[link] Taking my life in my hands in Swansea (posted 2014-12-11)
[link] Good, stable, reliable local businesses (posted 2014-11-23)
[link] Are administration / review charges on hotel guests acceptable? (posted 2014-11-20)
[link] Sunday is never quiet at Well House Manor (posted 2014-09-21)
[link] The Best Bed and Breakfast in Melksham? (posted 2014-09-19)
[link] Pictures of Melksham Heritage Discovery Fair (posted 2014-07-11)
[link] A lovely meal in Swindon - just a short walk from the station (posted 2014-04-20)
[link] Weekend breaks by train to Melksham, Wiltshire (posted 2014-04-19)
[link] Updated staff systems helps us look after our customers better (posted 2014-04-11)
[link] Making a personal gain from a more expensive business hotel stay (posted 2014-04-02)